Link to the Letter to our own Angela Alioto.
Sign our petition and keep the Porziuncola open!
Read it and understand what Pope Francis has to say
LAUDATO SI'  ON CARE FOR OUR COMMON HOME
Full English language document in PDF form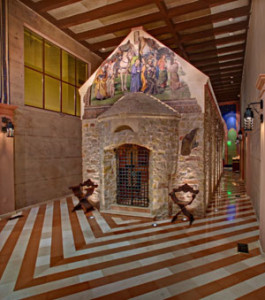 Contact the Knights
Knights of Saint Francis of Assisi
700 Montgomery Street
San Francisco, CA 94111
knightsofsaintfrancis@gmail.com
Help spread the message of Papa Francesco's teaching

Please visit La Porziuncola Nuova while in San FranciscoOn August 2nd of 2008, Pope Benedict XVI's Papal Decree gave to the Nuova Porziuncola its own "Pardon of San Francisco," an expanded version of the Pardon of Assisi that Saint Francis received from Pope Honorius III in 1216.
This Papal Decree also makes the Porziuncola Nuova the fifth Holy Place in the world and the first Papally Decreed Holy Place in the United States!
Subscription Donation